To the writing of commentaries there is no end. For some, this is problematic. For me, however, I enjoy the cacophony of voices that contribute to our understanding of any biblical book. That is not to say that all commentaries are equal. Like any other form of writing each contribution has its plusses and minuses, as no commentary can possibly cover every interpretive dilemma.
With that caveat aside, one such contribution that I have been looking forward to is Marianne Meye Thompson's on the Gospel of John. She is the George Eldon Ladd Professor of New Testament at Fuller Theological Seminary, and her
John: A Commentary
in the
New Testament Library Series
(Westminster John Knox Press) is certain to join the ranks of some recent great commentaries on John's Gospel such as Michaels' in the NICNT.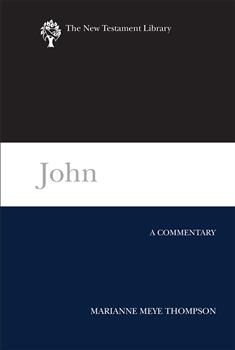 Here are some of the particulars:
Price: $60.00
Hardcover: 568 pages
Publisher: Westminister John Knox Press
(November 6, 2015)
Language: English ISBN-10: 0664221114
Description:
Almost from the earliest days of the church, John's distinctive presentation of Jesus has provoked discussion about its place among the other Gospels. One cannot help but see the differences from the Synoptics and wonder about the origins and character of John. In this new volume in the New Testament Library series, Marianne Meye Thompson explores the ministry and significance of Jesus of Nazareth as presented in the Gospel of John, paying special attention to the social, cultural, and historical contexts that produced it. John's Gospel, Thompson posits, is the product of a social-cultural world whose language, commitments, and contours must be investigated in order to read John's narrative well. In doing so, Thompson studies the narrative, structure, central themes, and theological and rhetorical arguments found in the Fourth Gospel. Thompson's expert commentary unpacks and illuminates John's unique witness to Jesus--who he was, what he did, and what that means. The New Testament Library series offers authoritative commentary on every book and major aspect of the New Testament, providing fresh translations based on the best available ancient manuscripts, critical portrayals of the historical world in which the books were created, careful attention to their literary design, and a theologically perceptive exposition of the biblical text. The contributors are scholars of international standing. The editorial board consists of C. Clifton Black, Princeton Theological Seminary; M. Eugene Boring, Brite Divinity School; and John T. Carroll, Union Presbyterian Seminary.
HT: Nijay Gupta